Intro
---
During the 90's there were countless classic and near classic albums that captured both lyricism and production in a single song. There were notable big sellers and chart toppers. There was also slept on albums that received very little sales succsess or attention from Hip Hop sources or even from Hip Hop fans. They aren't underrated once they are heard, but the are truely slept on when they are not
---
Albums shown in chronological order *
---
1. Scientifik — Criminal (1994, Definite)
The debut album from Boston emcee Scientifik, he emerged on the scene with his 12 inch single
Jungles of the East
/
Lawtown
. His album dropped shortly after and was a mark on the scorecard for the Boston Hip Hop. It featured production from Edo G, Diamond D, RZA and Buckwild. It was dark, and gritty, capturing the East Coast sound at the time.
Scientifik's rhyme schemes were intricate and his instrumental selection mirrored his harsh tone and lyrics. For starters, he talked shit more than 99% of rapper of his time, and spat out rhymes for the streets. With his dark imagery anybody anywhere living in an urban setting could relate to what Scientifik was rhyming.
---
2. Casual — Fear Itself (1994, Jive)
From the Hieroglyphic's camp, came member Casual and his production crew of himself, Domino, Jay-Biz, Del, and A-Plus. Casual's debut was full of characteristic and attitude. It was another critical success for the third eye. Casual's flow was cool, production featured funk-upped break-beats, rhythmic horns, and chilled bass line samples.
---
3. Extra Prolific — Like It Should Be (1994, Jive)
To say that duo Snupe and Jay-Biz were very different from Souls of Mischief's or even Hiero's style would be incorrect, but nevertheless they were a dynamic duo, flexing their laid back instrumentals and raps sprouted from jazz and funk samples
---
4. Kurious — A Constipated Monkey (1994, Columbia)
With the likes of Big L and Nas on Columbia's label at the time, Kurious Jorge had competition to measure himself against. On a side note, considering we're on the most slept on albums of the decade is that Hiero member Casual featured on Kurious Jorge's song
"What's the Real"
.
With solid rhyming and strong production from DJ Richie Rich, The Beatnuts, and Bobbito Garcia, the album provides a fresh listening for an open-minded Hip Hop listener
---
5. The Legion — Theme + Echo = Krill
The debut album from the Bronx trio, the Legion is what you might of expected. Strong vocals, hardcore lyrics, thumping beats, and wailing horns claimed the hardest of the gritty production perfected by New York and New Jersey
---
6. The B.U.M.S (Brothas Under Stress) (1995, Priority)
The sole album from duo members E-vocalist and D. Wyze, it contained
soulful beats
sampling Motown contemporaries, light R/B and funk. They looked up to Independent Hip Hop artists like Com Sense, Souls of Mischief, Beatminerz and Wu-Tang Clan. Their light, carefree mood approach to Hip Hop, and grooved instrumentals instantly built a alternative classic crafted by the duo
---
7. Bakers of the Holy Bread — The End of a Cold Experience (1995, Crediblity, Sidelake Prod.)
From Sweden the trio didn't take chicken-shit lyrics from wannabe gangster rappers in show business. Taking samples from jazzed melodies, harped tunes, pianos and funked guitar chords they built a strong album from front to back. They spat brag rhymes, lyrics dealing with the legitimacy of Hip Hop rappers, spirituality and stream of conscious style narratives
---
8. Jamal — Last Chance, No Breaks (1995, Rowdy)
Our first Def Squad member on the list, Jamal first stepped onto the underground scene with emcee Malik, the duo to be known as Illegal (another great sleeper album). With track titles like Unfuckwittable, and guest appearances by Redman and the Hit Squad, Jamal had hardcore lyricism and semi-maniacal attitude. His production is nothing short of the Indepedent Hip Hop scene in New York at the time. Production from Redman, Rock Wilder, Easy Moe Bee, and Erick Sermon
---
9. Cella Dwellas — Realms 'N Reality (1996, Loud)
Hailing from Brooklyn the duo captured the dark sound of the Independent Hip Hop scene. Their only album contained references to 2Pac, dark humor, and introspective rhymes mirroring their reality. It received production duties from Megahurtz, Nick Wiz, and Cella Dwellas. From start to finish the album is dark, rattling sounds from devilish saxophones, and subtle piano chords, members UG and Phantasm lay the street-ridden rhymes to their magnum opus
---
10. Smoothe Da Hustla — Once Upon A Time In America (1996, Profile)
Another Brookyln native on the list, Smoothe's debut contains soulful vocal samples to contrast the dark sound that engineers the album. The lyrics deal with drug dealing, poverty, and violence. It's the type of conscious album that grabs the listeners with the combination of instrumentals and top notch raps. With strong tone and on point lyrics, the album makes for a a near flawless listen
---
11. Mad Skillz — From Where??? (1996, Big Beat)
Equipped with complex battle rhyme schemes, Virginia rapper Mad Skillz bombed raps on his debut LP. With vocal samples from rappers like Notorious B.I.G and Havoc it's evident that he gained influence from New York City rappers during his time. The instrumentals receive a variety of moods, from
soulful
to
dark and screeching
. Though at times the substance can seem overdone, Mad Skillz every now and then drops bars of cleverness and lyrical dexterity
---
12. Keith Murray — Enigma (1996, Jive)
Another slept on Jive release. Another Brooklyn native on the list. Another dope tune. Keith Murray stepped onto the scene with no games to play. The most notable joint from the album entitled
Yeah
featured verses from Redman, Jamal, Busta Rhymes, and Erick Sermon who at the time was
beefing with former EPMD member
. Lyrics dealt with brag raps, street consciousness and emotion. The production here is the perfect platform for Keith to flow on, with duties handled by Def Squad member Erick Sermon and Sugarless
---
13. Mic Geronimo -Vendetta (1997, TVT Recordings)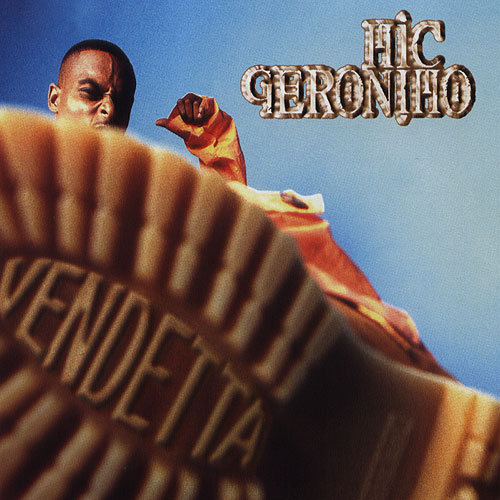 While it may seem that Mic Geronimo went more commercial with this album considering that the work contains less of a gritty sound and the semi-infamous
single that turned Mic's fans against him
, Mic Geronimo's sophomore album Vendetta had clean sounding production, and strong subject complimented by his signature flow. It's not one to sleep on, with production from K-Def, Pete Rock, Marley Marl, Irv Gotti, and Havoc.
---
14. Cru — Da Dirty 30 (1997, Violator Records)
The second group to be from the Bronx, the Cru had everything a great records should have. Great productions, and great rhymes. They had strong guest appearances from LOX, Slick Rick, and Ras Kass. It's hard to describe their instrumental sound, considering they had obvious influence from the
west coast vibe
, and even soulful chants during their hooks. It's the not the usual Bronx record, it provides some hardcore attitude, some laidback moods, and neutral characteristics in both lyrics and production. It's a great listen for anybody who digs a classic Hip Hop sound, reminiscent of the NYC vibe, but infusioned with other styles and vibes
---
15. Artifacts — That's Them (1997, Big Beat)
With vocal scratches, thumping drum schemes, and hypnotizing samples, Artifacts certainly had the ground work layed for them with production from V.I.C, Shawn J Period, Lord Finesse, and various dee-jaying techniques from DJ Kaos. Both rappers spit a range of literary devices most notably crafting their battle rhymes from pop culture references like Rudolph the Red thingy, CVS's, Sega video games and other stuff. Both cats on this LP show how much raw talent they posses from their clever lyrical insertion to track-dominating flow
---
16. Godfather Don — Diabolique (1998, Hydra Entertainment)
Godfather Don crafted his sampled-driven instrumentals, and sophisticated rhyme schemes. The album even received its own instrumental release strictly as a 2xLP. Godfather Don rocked the underground with his street battle rhymes, and track-reigning flow. It featured several guest appearances most notably by Kool Keith and Scaramanga. Last words… Godfather Don is the Don!!!
---
17. All Natural — No Additives, No Preservatives (1998, Uppercut/All Natural Inc.)
The sole group from Chicago, All Natural (led by Capital D) spoke intelligent lyricism with their debut album. Self proclaimed as "100% Pure Hip Hop", All Natural's lyrics reflected a more conscious lifestyle, with topics such as Hip Hop's current state (and the future). Their beat selection included jazz samples, and laid back drum programming. The production was handled mainly by Capital D, with guest producers No I.D, Andy C, and His-Panic
---
18. Scaramanga — Seven Eyes, Seven Horns (1998, Sun Large Music)
After appearing on Godfather's song
No Competition
from his album
Diabolique
, and Kool Keith's
Dr. Octagonecologyst LP
as
"Chewbacca Uncircumcised"
and
"Sir Menelik"
Scaramanga began working on his debut album released on Sun Large Music
Scaramanga's rhymes include street talk and braggadocio, and production was as competitive as Scaramanga's 16's.
---
19. Witchdoctor — …A S.W.A.T Healin' Ritual (1998, Interscope)
Witchdoctor's debut album featured dark tribal instrumentals, and abstract voodoo rhyming from the Atlanta rapper. One of the most overlooked concept albums in Hip Hop, healin' ritual provides an atmospheric adventure into Witchdoctor's mindset . It features verses from OutKast, and Goodie Mob, with production from Organized Konfusion
---
20. Representativz — Angels of Death (1999, Duck Down)
One of Duck Down's early releases, Representativz gave a bone shivering delivery similar to Cella Dwellas, or even Brotha Lynch with production coming from Supreme and Shaleek. Eerie beats creeked in the background with duo members Lidu Rock and Supreme spitting ill humor, laced with guns and violent imagery
---
Outro
Next compilation coming soon. PM me for questions or any album suggestions